My husband Dave and I met in 2009 in London, England. At the time, Dave lived in London and I was at university in Liverpool, so we were dating long-distance for about three years before I moved to the capital to be with him. We got engaged in 2013, but renting property in London and having an active social life meant there was no way we could save for a wedding, so we kept putting it off. We weren't in any huge rush to get married anyway.
Very early on, it became clear that our honeymoon was far more important to both of us than a big wedding. Dave and I have always loved Disney films and when I was at university, I applied to work in Florida at Disney World. I moved to the U.S. in 2010 and worked in the Magic Kingdom for four months. It was absolutely incredible.
We always laugh about it, but the moment I returned to the U.K, I told Dave that we needed to go to Disney World together. When my student loan came in for the next year, I used it to pay for our trip there. Looking back, it was quite irresponsible behavior, but I did then get two jobs—as a waitress and a pot wash—and worked constantly to make the money back. Once we'd visited the Magic Kingdom together, we agreed we would go there for our honeymoon.
A budget ceremony and reception venue with limited guests
Originally, we tried hard to create a wedding for a budget of around £5,000 (US$7,000), but last minute expenses pushed the total costs of our 2019 wedding up to around £7,300 ($10,340).
In the early planning stages we considered every possible option in order to make the wedding affordable; we even seriously discussed holding it in a village hall and ordering £300 (US$420) worth of Domino's pizza.
But when we looked at hiring an empty village hall or barn, we realized we would then need to hire tables and chairs, dinnerware and cutlery and even a sound system. We began researching local registry offices (the closest U.S. equivalent would be getting married at a city hall) in the Cheshire area—where we were living at the time—and found that venues that catered for weddings that included a ceremony, normally had a base price of around £5,000 to £6,000 (US$7,000-$8,500). These were venues that weren't really to our taste anyway, so it felt like a complete waste of our money.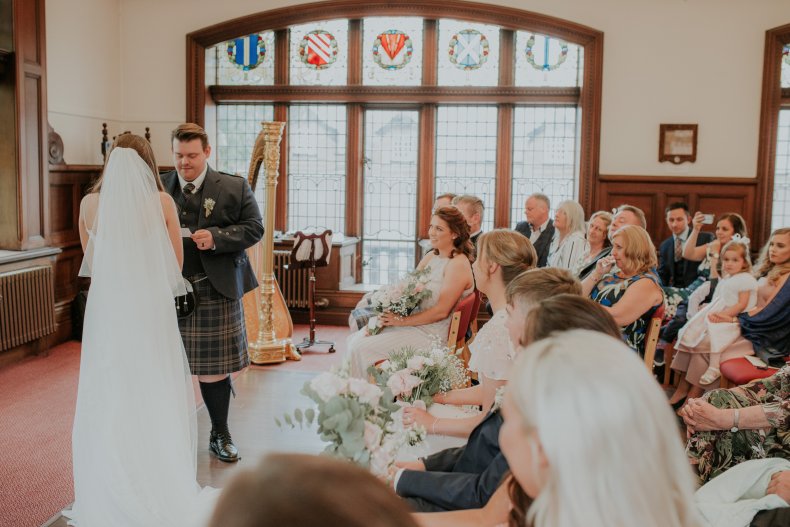 Instead, we decided to be a little more creative. We found a registry office called Altrincham Town Hall, close to Manchester, that could hold 80 people for the service and only charged £400 (US$565). That's quite unusual for a registry office, but it's a really beautiful building. Then, we discovered a pub close by, The Three Greyhounds in Cheshire, with a barn in its grounds. The barn can be hired as an event venue and it cost us £500 (US$700) for 50 guests.
Of course, one of the main ways to reduce wedding costs is to limit the number of guests, and we did then decide on a limit of 50 for both the ceremony and reception, but I'd also recommend looking for venues that don't typically cater for weddings, like we did.
It was lucky that everyone we wanted to invite from both families could be accommodated within our guest list of 50 people, but we only had a small number of spots left for friends and were only able to invite those who were our bridesmaids and groomsmen. That was a big sacrifice, but it felt like the right decision at the time. And, I think our other friends were understanding.
Affordable food, flowers and decor
The rental costs for the barn included tables and chairs, plates and cutlery and serving staff. We also had the space from 10am to midnight on the day of our wedding. So we were able to arrive on the morning of April 27, to decorate the space ahead of the reception.
The barn had beautiful wooden beams and already featured arrangements of dried flowers up in the rafters, which probably saved us thousands in flower costs! There were also wooden floors and tables, and fortunately, the venue allowed candles. We bought hundreds of white candles from Ikea and Amazon and filled the place with them.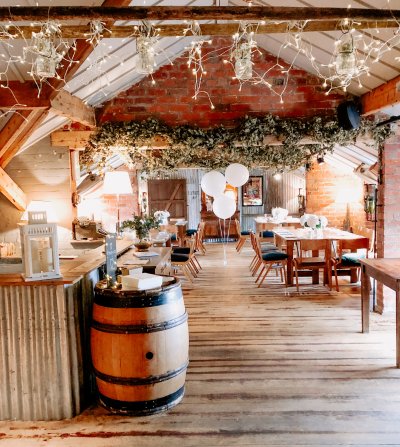 But wedding flowers were something we just couldn't afford. I had five bridesmaids and for their bouquets alone we were quoted around £2,500 (US$2,800). So rather than order from a florist, we went directly to a flower wholesaler.
The downside was that we were only able to put in an order five or six days before the wedding, and our order was dependent on what was available, but the wholesalers were incredible. We had so many flowers to choose from and they were incredibly knowledgeable about how to create a bouquet. We really wanted eucalyptus; it's a great filler and it's cheap, so we had it in all our bouquets and in the end, we only spent around £276 (US$390) on flowers.
That included five bridesmaids bouquets, my bouquet and two vases of flowers on each of the five tables in the barn. Our table displays featured huge white hydrangeas; they make a statement and they look expensive, but they're actually extremely affordable. Then, we bought vases from Ikea that were each around £2 or £3 (US$3 or $4).
Instead of having a menu for each person, we printed one for the middle of each table and displayed them in clear acrylic holders. I also ordered packs of white linen napkins with crochet detail around the outside. They looked a little more expensive than paper napkins! We chose not to have individual wedding favours for each guest, but a friend of ours baked a big batch of homemade brownies and we displayed them in a silver bowl for each guest to help themselves. My sister actually made a sign that said "Brown-ies" because our surname is Brown. It was a little cheesy, but we liked it.
A big decision we made was to cut starters from the menu, because we didn't want a particularly formal wedding. We spent £1,250 (approx. US$1,800) for each guest to have a main meal and dessert, a drink on arrival and bottles of prosecco on each table. The idea was that each person could have two or three drinks on us.
Not having an open bar can cause problems, but we did decide not to provide any further alcohol. Luckily, the wedding was small and we were able to mention it to people beforehand; everybody came prepared and it wasn't an issue. Another big saving we made was to have a Spotify playlist instead of a DJ or a band. Luckily the barn had a really good sound system, so Dave and I chose one playlist for the meal, and one for dancing afterwards. A friend of ours very kindly played the harp during our ceremony, and didn't charge us anything.
Wedding dress samples, kilts for hire, bridesmaids' gowns on sale and DIY hairstyling
David and his groomsmen wore kilts, which we hired for £850 (US$1,200) from a kilt company, MacGregor & MacDuff. That was great because they arrived a week before the wedding, giving everyone plenty of time to try them on. Buying my dress was a little more stressful. Partly because I was still looking for it in March, a month before we got married. Eventually I went to a local bridal shop in Cheshire, Maria Modes, and asked if there were any dresses available to buy that day. We were shown a selection of sample dresses that, luckily, were my size: a size 12 (US size 8).
I tried one particular dress on and really liked it. There was a tear at the back of the dress, but as it was layered, the tear was underneath so it didn't bother me in the slightest. No one else could see it. So, other than being way too long—because I'm quite short—there weren't really any alterations to be made and it cost £1,100 (US$1,650) including a veil.
Even if you don't feel confident doing it in person, I'd say it's definitely worth calling ahead and asking a bridal shop if they have any sample dresses or anything with slight damage. I don't think anyone will know whether you're wearing something new or old, expensive or cheap. My shoes were a £2 ($3) pair of silver ballet flats!
We also didn't have matching bridesmaid's dresses. I bought each dress online when I spotted sales happening and probably spent around £300 (US$425) in total. I did let my bridesmaids pick the dress shape that suited them, but asked that they chose neutral and blush tones, and that each dress had embellishments—like beading or sequins. My sister Lauren wanted a dress with a train, she actually ended up with a train longer than the one on my wedding dress!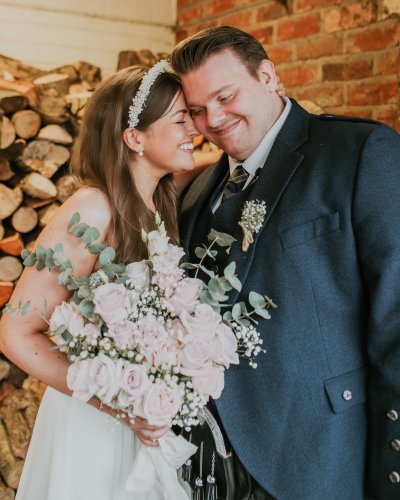 I wanted all the bridesmaids to have hairstyles they felt really comfortable with, so everyone had their hair down with a few curls put through, which we did ourselves. But we did hire a professional make-up artist who cost £600 (US$850). My bridesmaids and I felt like it was the area we would struggle with most on the morning of the wedding.
Our professional photographer ended up being someone I met through Instagram who gave us a good price, £800 (US$1,130). She had shot bloggers before, and was really happy to work with us. The photos from the day really capture how beautiful it all looked.
I am definitely happy with the wedding we had. I think that, like most people, I have had the experience of looking back and wishing I had enjoyed it a little bit more at the time. The ordering and assembling of the flowers was very last minute and that did create a bit of stress. We were making all the bouquets the night before until 1am.
But Dave and I couldn't have wished for a more beautiful day, the added bonus of having a more intimate wedding was being able to speak to and thank everyone individually for being there.
I'm pleased we were able to create a wedding on a budget. The feedback from our guests was amazing, they had a great time. We could actually have had a much cheaper wedding if we'd hardly had any guests, but we wanted to have the people we loved there. And, the venue was the perfect size for 50 people. A smaller reception venue created the atmosphere of a big celebration on the day.
No matter what style of wedding you have, you'll never be able to please everyone. So my advice is to stay true to what you want and look at the bigger picture. There was a wedding dress that I would have loved but it cost £3,000 (US$4,250), so I didn't even allow myself to try it on. But, whenever I felt a little bit sad that we couldn't have money behind the bar, or that dress, or a band, I just kept thinking of Dave and I in Disney World on our honeymoon.
The truth is, a wedding is just one day. If you put yourself in massive debt to pay for your wedding, you're going to have to live with it for years to come.
Looking past the wedding and at your life together in the future is a great way to put it all into perspective.
Sophie's Wedding Costs*
Registry office and legal fees: £400 (US$565)
Reception venue hire: £500 (US$700)
Food and drink for 50 guests: £1250 (US$1,800)
Cake: £120 (US$170)
Venue decorations: £1000 (US$1,415)
Taxis instead of wedding cars: £500 (US$710)
Dress and veil: £1,100 (US$1,650)
Bridal shoes: £3 (US$4)
Bridesmaids dresses: approx. £300 (US$425)
Kilt Hire: £850 (US$1,200)
Flowers from wholesale flower market: £276 (US$390)
Makeup: £600 (US$850)
Photographer: £800 (US$1,130)
Total wedding cost approx. £7,700 (US$10,865)
Honeymoon cost: £6,000 (US$8,500)
Sophie Belle Brown is a YouTuber and floral dress enthusiast living in Cheshire with her husband Dave and son, Barney. You can follow her on Instagram @sophiebellebrown and subscribe to her YouTube channel Sophie And Dave.
All views expressed in this article are the author's own.
As told to Jenny Haward.
*All currency conversions are approximate and based on exchange rates at the time of publishing.