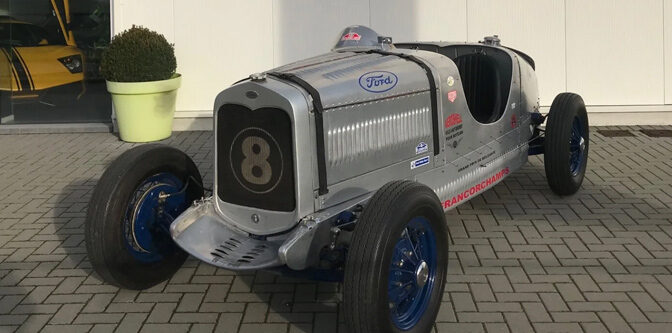 Previous week, I bought an e-mail from Belgium in broken English describing an early Ford endurance racer designed for the Mille Miglia. I was having issues deciphering the e-mail and asked the sender (Willems) if he could send out me some pictures of the motor vehicle. This is what I got back:
Now generally, I really don't go for Design-A roadster race automobiles with boat tails and slice down doors and… But this small racer has a thing to present.  Obviously, it's a modern make. There's no age to converse of listed here. But, if you get rid of all the stickers and travel the shit out of this detail, I really do not consider it would just take extended for the character to build.
Even so, I think it's the particulars of this automobile additional than the entire photo. 3 factors stand out the most to me. 1st is the engine turned dash. Rally clocks and rows of switches are both equally items that I like, but what I genuinely like is the constructed-in "fuse panel." I do not know if I care for the implementation in this instance, but I totally really like the thought of accessible fuses on the sprint. Increase a tiny "spare fuse" panel and you obtained some thing.
Next, I really dig the spare spark plug rack. This is actually popular on European endurance autos of the period and I feel it operates really nicely right here in help of the banger motor. Do your finest to disregard the alternator.
And at last, you can not dismiss the liberal use of protection wire all over the damned issue. In observe, this would be a total agony in the ass, but the element and texture it provides is nearly worth it.
***
In any situation, this is not a auto I would usually stop and study. From 500-toes it appears to be like a bit like a single of these autos you'd see driven by an old fart who just invested $1500 on a speedometer so he could compete in the Fantastic Race. But the nearer you get, the much more you start out to see information and strategies that are essentially really relevant to what we do. I dig that sort of thing…